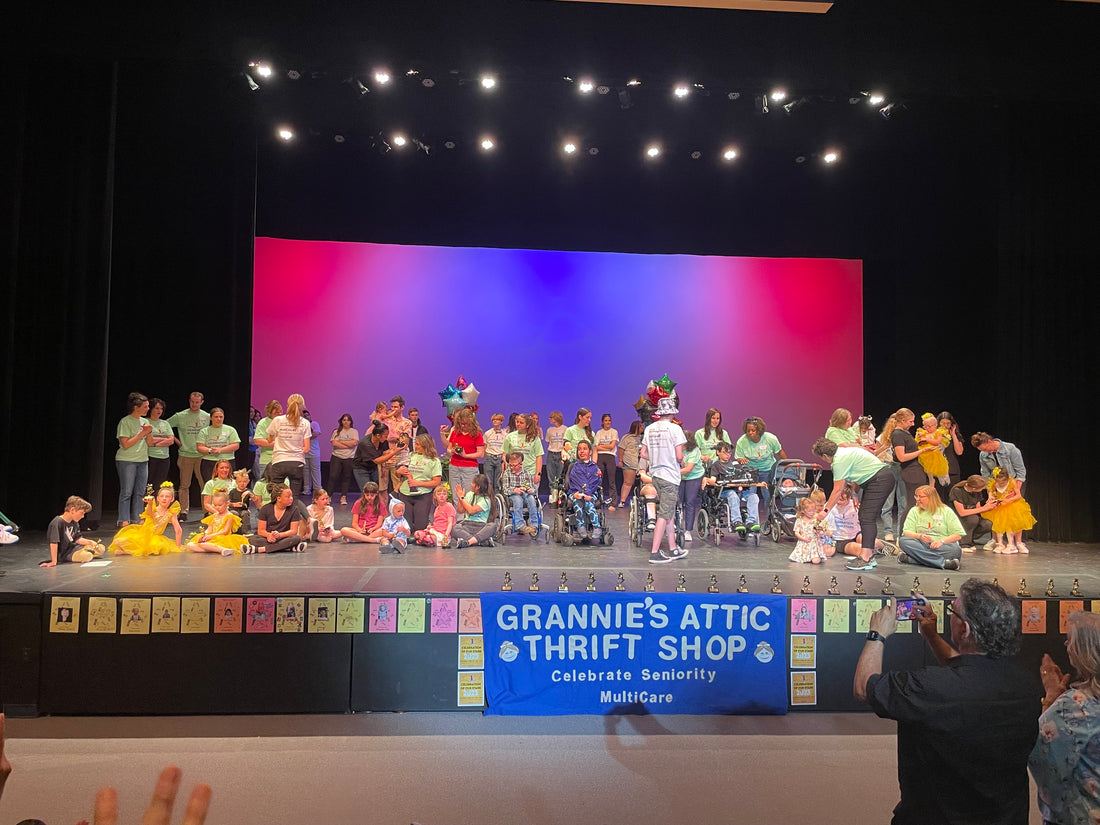 'Rising Stars," A Very Special Talent Show
We arrived at therapy and were greeted by Lochlan's passionate therapist. She was extra excited, more than usual. "We are having a talent show and I think Lochlan would be perfect," she announced. She went on to explain that Mary Bridge used to host an event called, "Rising Stars," every year prior to Covid which explains why I had never heard of it. She went on to explain that all the contestants were in therapy. I, of course, said, "yes," and "sign us up." We knew immediately that Lochlan's talent show would be showing off his tricycle skills. We headed home and I started planning the details.
.
I ordered a black shirt with tattoo sleeves, a black skull cap helmet and a green bandana for his back pocket (green to represent cerebral palsy.) I also sent in the "Bad to the Bone" track to complete the vibe. We spent weeks practicing and then it was time.
The Friday before the talent show was the rehearsal. Lochlan and I say in the audience as I watched contestant after contestant grace the stage. Each child had a different skill they had been mastering through therapy. It was a full spectrum of abilities, disabilities, skills and talents. I was holding back tears the entire time. My tears weren't from pity or sadness. My tears from complete awe of these children. I know how hard my son works for what most of us take for granted. I could see that same determination and strength in each child and their incredible talent. I can't imagine having that kind of strength and was so moved. It was beautiful.
.
I thought getting my tears out during rehearsal would make the actual event easier. I did not, but for different reasons. We encouraged our friends and family to wear green and did they ever show up. We had what felt like an entire section of green show up for Lochlan. While each child entered the stage, the announcer shared a little bio about them and little, if any of it, had to do with a disability. They were nothing more than kids being kids while sharing a talent. I watched child after child enter the stage and perform their heart out.. I don't think any child was even nervous. Each child was so happy to be there. The crowd was so incredibly welcoming too. I don't think I have ever experienced that level of happiness, encouragement and pride from a group of people that size. It would almost take your breath away. It was beautiful.
.
When Lochlan came onto the stage, he was so focused on finding his family that he almost forgot to ride his tricycle. Once he got going, he really got into it and was having fun. I was so proud to be his mother, but equally proud to have witnessed such an amazing experience. Watch the Video
.
Your Email Address Will Not Be Published. Required Fields Are Marked *