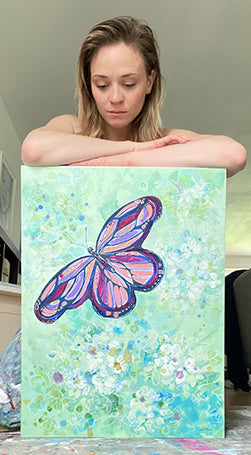 Cards of Hope
There are many contradicting emotions us mothers of traumatic birth have to navigate when the worst day of your life is also the best, the birth of our child. Because the topic of birth trauma is not talked about nearly enough, trying to navigate these contradicting and confusing emotions, especially around our child's birthday, can be an especially lonely place. I want to change this. which is why I have created what I call Cards of Hope.
As my way to help mothers feel less alone in their birth trauma, I wish to mail a piece of artwork during the month their trauma occurred. When my art arrives to each mother, my hope is that she is reminded that she is not alone.
Each month, I release a new painting for my Hope Series that serves as the Card of Hope for that month. Proceeds from every painting and print sold from this series funds the costs associated with sending a Cards of Hope to a mother of traumatic birth who requested one.
Ways to Support Cards of Hope
Buy Art from Hope Series

Proceeds from everything sold in this collection goes towards the cost of sending a Cards of Hope to a mother who has requested one

Shop Now

Donate

Make a Donation. Whether its $1 or $100, any amount helps.

*Please note: $7 covers the cost to mail one Card of Hope

Venmo

Share, Like or Engage

The simplist way to support us is to follow our social media. When you engage, you help us reach mothers of traumatic birth and bring hope

Instagram